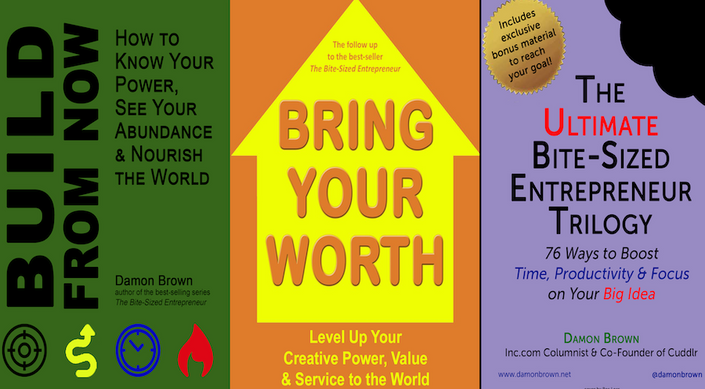 Few things frustrate as much as a business dream deferred. Sometimes we defer our true path because of the myths we've heard about entrepreneurship. We are told that we have to struggle and sacrifice to follow our calling, often to the point of hurting relationships, wrecking our health, or risking our future. It is a romanticized vision, like the starving artist or the sacrificial entrepreneur.
The wisest, most productive people, however, know a secret:
The belief that you have to sacrifice everything to make your mark is a myth.
I was told this myth repeatedly working in Silicon Valley, but I stumbled upon the secret later when I became an entrepreneur myself and I launched two apps, So Quotable and Cuddlr, the latter of which became the number one Apple app and was acquired within a year. Throughout this time, I acted as the primary caretaker of our first infant son. Somehow I was able to be a fully-present father, an active co-founder, TED Speaker, and prolific author. I went on a quest to learn how the most prolific creators, from Brene Brown and Steven Pressfield to Pema Chodron and Seth Godin, managed to follow their path within the limitations of their lives. And, beyond my curiosity, I wanted to serve you.
Here, for you, it became the daily Inc. column, leading to the best-selling The Bite-Sized Entrepreneur and Bring Your Worth series, and conversations around the world.
Today, by popular demand, I offer the boot camp.
10 Steps to Following Your Unique Business Path crystalizes the insights from conversations with top performers, dialog sparked from the long-running Inc. column, and keystone methods from the four Bite-Sized Entrepreneur books into a solid, actionable series of classes. The first one goes live in late January 2018, with the next class going live every week thereafter.

You can join at any time. You can go through the course as many times as you like.
Each class has one key focus supported by discussions with me, videos from amazing creators, and interactive material you'll only find here.
It includes:
*Important discussions only available here
*A community of people also developing their passionate business
*Deeper insights well beyond the best-selling books and popular Inc. column
*Exclusive! Watch the webinar "3 Reasons Why Your Real Passion Has You Distracted, Unfocused & Nervous (and How to Overcome It)", the popular keynote "How to Create Your True Worth!", and the new "How to Know, How to Show & How to Grow Your Business" keynotes from Damon's Toledo Library Entrepreneur-in-Residence.

To maximize your learning, take advantage of the discounted rates for the most popular books in the series (The best-selling The Ultimate Bite-Sized Entrepreneur, the critically-acclaimed Bring Your Worth and, exclusive for the full package, the new Bring Your Worth follow-up Build From Now) as well as up to three 45-minute one-on-one coaching sessions with me! All the fun details are below.
After completing the boot camp, you'll have a clearer idea of how to create your vision, what drives your purpose, and where you can best use the tools you already have. This boot camp will get you on the path to discovering, creating, and executing your strongest calling within your current life.
Look forward to connecting with you!
Damon
Your Instructor
Damon Brown helps side hustlers, solopreneurs, and other non-traditional creatives bloom. As a best-selling author, two-time startup founder, and four-time TED Speaker, Damon co-founded the popular platonic connection app Cuddlr and led it to acquisition within a year, all while being the primary caretaker of his infant son. He now guides others through his one-on-one business coaching, Inc. Magazine column and side hustle bootcamp.
Most recently, Damon was the first Entrepreneur-In-Residence at the Toledo Library. His latest book in the Bring Your Worth series, Build From Now: How to Know Your Power, See Your Abundance & Nourish the World (January 2021), is available at www.buildfromnow.com.

Course Curriculum
Thank you!
Available in days
days after you enroll
Know Your Purpose
Available in days
days after you enroll
Know Your Core
Available in days
days after you enroll